The Positive Sobriety Institute specializes in expert-delivered addiction assessment, rehabilitation and treatment for professionals through intensive partial and outpatient programs, independent living and mandatory aftercare. The majority of patients at PSI are professionals, many in safety sensitive, high-stakes careers. Accordingly, we work closely with all regulatory boards, referring agencies and employee assistance professionals to assure treatment adherence, accountability and compliance with respect to licensing standards, and other governing bodies that have entrusted PSI with saving a highly valued individual. We are honored to do so, and take this responsibility to heart. Because for these men and women, the cost of failure is simply too high.
Learn about our Professional Treatment Program:
Professionals we treat include:
Addiction Treatment for Impaired Professionals
The treatment of impaired professionals is a special area of expertise in the addiction recovery community specifically for professionals who find themselves dependent on alcohol or drugs. Discretion in this area is of the highest sensitivity because the careers of professionals are very high stakes in nature. For professionals, addiction treatment must be tailored to unique needs to receive care in a way that does not jeopardize their career-standing and reputation.
Trying to overcome drug and alcohol addiction is challenging for anyone, but there is an added component of complexity when an individual holds a respected job title such as a physician, nurse, athlete, lawyer, dentist, CEO or pilot. Men and women who are professionals in these industries face the same obstacles as anyone seeking sobriety, but they also must face the possibility of losing their professional licenses and overall livelihood.
At Positive Sobriety Institute, we understand the challenges that professionals face when trying to overcome addiction and have developed a treatment process that is thorough and ensures the utmost privacy to protect every patients' career. Our treatment program for addiction centers around a network of highly trusted doctors and physiologists that can help patients overcome addiction safely to return to their normal lives.
A Culture of Mutual Trust and Respect
At PSI, we strive to create a high level of mutual trust and respect with each patient, their family members, referral sources, our colleagues, and with the community. Establishing a culture of mutual trust is integral to our mission, core values, clinical standards, and of course, the expectation of excellence we hold ourselves to. The exceptional outcomes delivered by PSI, are a direct reflection of our commitment to the irreducible principle of mutual trust and respect.
Cohesive, Collaborative and Comprehensive
Our team of experts from various clinical disciplines work cohesively, collaborating daily with each other, and most importantly, with each patient. This is not the easiest way to go, but the results of our labor-intensive, "hands-on" approach delivers a comprehensive, objective and accurate, diagnosis, which is the foundation of each patient's individual care plan. Moreover, our model routinely uncovers co-occurring medical or psychiatric conditions, of which, many would be missed by a less comprehensive approach. These co-occurring conditions are addressed and treated at PSI, or by referral to the best available resource.
Alliance with Academic Medicine
Due to our strategic alliance with the Feinberg School of Medicine, at Northwestern University, we continually incorporate the most recent findings, derived from the best available research, into our all our diagnostic and treatment modalities. Moreover, because our patients come from various backgrounds, with differing disease sequela, severity and support, PSI provides state-of-the-art, multimodal, multi-phasic, and multidisciplinary care.
The Three M's of Addiction Treatment Excellence
The best available scientific evidence reveals that the most accurate diagnosis and best treatment outcomes for addictive disease and concurrent medical or psychiatric illness, result from patient centered care that is, Multimodal, Multi-phasic, and Multidisciplinary.
Multimodal care provides distinct, yet complimentary therapeutic modalities, such as, comprehensive medical and psychological evaluations, detoxification, group, individual and family therapy, nutritional counseling, recreational therapy and spiritual care.
Multi-phasic treatment provides distinct "phases" of care, including evaluation, primary treatment (inpatient or outpatient), family counseling and continuing care. "This year's U.S. News & World Report ranking recognizes Feinberg's exceptional accomplishments and our upward trajectory among the nation's elite medical schools," — Eric G. Neilson, MD, vice president for Medical Affairs 4
Multidisciplinary. Our team includes experts from psychiatry, addiction medicine, neurology, internal medicine, psychology, social work, and various subspecialties utilized, when needed, by our patient centered program.
Leading PSI's extraordinary team, is Dr Daniel Angres, a nationally recognized expert in Addiction Medicine and Addiction Psychiatry. Dr Angres is also on the faculty in the Department of Psychiatry and Behavioral Sciences at the Feinberg School of Medicine at Northwestern University.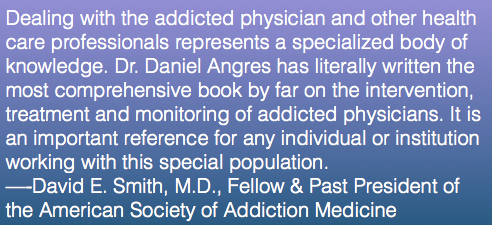 Drug Addiction and Treatment
At Positive Sobriety Institute, we understand that professionals who are battling substance abuse face unique challenges when trying to achieve sobriety. Addiction among professionals is highly stigmatized, because these leaders—whether healthcare professionals, lawyers, pilots, or executives—have enormous responsibility in their professions and are held to a higher standard of conduct. Unfortunately, no one is immune to drug addiction, even highly-skilled and well-educated leaders.
The stigma associated with addiction often causes impaired professionals to not seek treatment due to shame or fear of losing their job. At Positive Sobriety Institute, we understand how difficult this can be which is why our treatment programs are developed to help deliver you from drug addiction without putting your profession at risk. Effective drug rehab for professionals must be highly customized and integrated to address the underlying issues causing drug addiction and how to best handle it in a high-stakes profession. Our drug rehab programs focus on providing for the specific treatment needs of professionals in an environment that is safe, discreet, and comfortable.
Alcohol Addiction and Treatment
Professionals living with alcohol addiction face a unique set of challenges when deciding to achieve sobriety. For professionals, alcohol addiction has taken on two strong, but conflicting forces: a means to cope in a high-stress, high-stakes career, as well as a dangerous illness that controls all aspect of life. Even if a professional recognizes that it's time receive life-changing alcohol addiction treatment, he or she might be apprehensive to seek treatment for fear of stigma or losing their high-stakes profession. Impaired professionals are held to a very high standard of conduct in their professions, making the stigma of addiction that much stronger and the risk greater.
At Positive Sobriety Institute, we understand the challenges that professionals face when alcohol addiction's roots have grown too deep and treatment is needed. We urge any professional—lawyer, doctor, pilot, dentist,   or executive—who is battling alcoholism to seek treatment from a rehab facility that caters to the specific needs of addicted professionals in a comfortable and private manner. Effective alcohol rehab for professionals must be multi-faceted to address the mental or behavioral issues causing the addiction, while tailoring treatment in such a way that can be applied in the workplace.